Reviews
Reviewed by Heather on July 27, 2015
Loved this for my wedding hanger!! Gorgeous
Reviewed by kjungman on July 27, 2015
The coasters turned out great! I sent him the image of exactly what I wanted and they turned out perfect! He was very efficient and had them sent out and delivered within the same week. I would highly recommend his products!
Reviewed by MariaBentivegna on July 27, 2015
So pretty, great bridal shower gift! =) Received item so quickly.
Reviewed by mellucci on July 27, 2015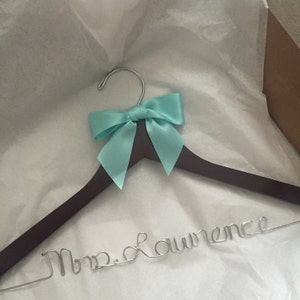 Bought this for my sister for her wedding and she absolutely loves it!!!! It is beautiful :)
Reviewed Ashley Fellows on July 26, 2015
Amazing work! Such a beautiful idea for the bride to be!
Reviewed by Pam King on July 26, 2015
Exactly what I wanted! Will be perfect for my wedding dress!
Reviewed by nevinamarie on July 26, 2015
I haven't seen the hanger in person because it was shipped directly to the bride's house, but she absolutely loves it! Thank you
Reviewed by Shauna Drozd on July 26, 2015
Looks wonderful! I can't wait to see bride's reaction to her gift :)
Reviewed by Veronica Galindo on June 19, 2015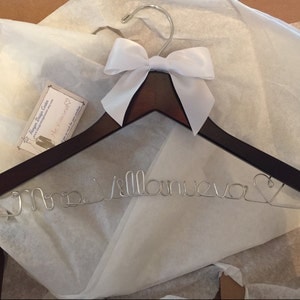 Thank you so much for my wedding dress hanger! This is my first purchase of my soon to be last name and I am absolutely IN LOVE with it! You guys are amazing!
Reviewed by Melany Ott on June 19, 2015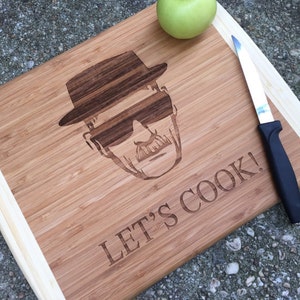 Breaking Bad cutting board, Let's Cook, Heisenberg, Walter white, Heisenberg cutting board
Very fun gift for my Dad for Father's Day. It got here WAY ahead of time, as in over a week early in time to be given on the actual day. Thank you to whoever made that possible! I'm very satisfied with the quality of the product and with the customer service along the way, thanks a ton, I'd definitely purchase from this seller again.
Reviewed by Meagan Blanchard on June 19, 2015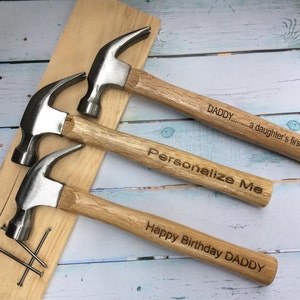 Personalized hammer with custom message/16 oz. hammer
Great quality!! And arrived just in time for fathers day even though I ordered it kind of late! Can't wait for my husband to see it.
TO READ MORE REVIEWS ON ALL OF OUR GREAT PRODUCTS - click here